Selected International Fund
Overview
Investment Strategy
The goal of the Selected International Fund is to provide investors access to attractive investment opportunities that exist outside of the United States, in both developed and developing markets. Selected International Fund was previously named Selected Special Shares.
The Fund applies our signature Davis Investment Discipline – seeking durable, well-managed businesses at value prices and holding them for the long term – to create a Portfolio of companies based primarily outside the United States.

Investors who recognize that some of the most compelling investment opportunities can be found beyond U.S. borders may want to consider Selected International Fund.
Why Invest in Companies Outside the U.S.
Globalization of the world's economy continues at a rapid pace:
Many successful companies are located outside the United States. (More than 37,000 companies are listed on exchanges outside the United States, compared with only 5,000 within the United States.)
About half of the world's market capitalization is outside the United States.
Approximately 95% of the world's population lives beyond U.S. borders and 74% of global GDP is generated outside the United States.

Investing solely in domestic stock funds may mean missing the tremendous growth opportunities and diversification potential that international companies provide.

Why Invest in Selected International Fund

Experience

Our investment discipline has compounded wealth for investors over six decades and three generations.
Aligned with Shareholders

With more than $2 billion invested side by side with fellow shareholders, we experience the same risks and reap the same rewards.1

| Selective | Attractive Growth | Undervalued |
| --- | --- | --- |
| SIF invests in only a select group of well-researched companies | SIF portfolio companies have grown faster than the Index | SIF portfolio companies are 33% less expensive than the index |
| Holdings** | 5-Year EPS Growth** | P/E (Forward)** |
| | | |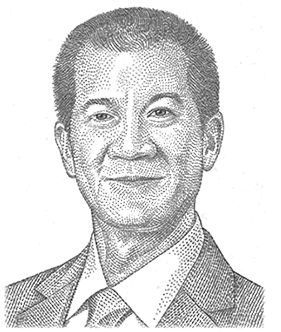 Performance
as of 9/30/21
Average Annual Total Returns
as of September 30, 2021
YTD*
1
Year
3
Years
5
Years
10
Years
20
Years
25
Years
Since Incep.
(5/1/93)
Selected International Fund
Class S**

-18.43%

-4.38%

1.41%
4.66%
7.33%
4.65%
5.10%
6.31%
* YTD is not annualized

The performance presented represents past performance and is not a guarantee of future results. Total return assumes reinvestment of dividends and capital gain distributions. Investment return and principal value will vary so that, when redeemed, an investor's shares may be worth more or less than their original cost. The Fund is subject to a 2% short term redemption fee for shares held for fewer than 30 days. The total annual operating expense ratio for Class S shares as of the most recent prospectus was 1.44%. (The Adviser is contractually committed to waive fees and/or reimburse the Fund's expenses to the extent necessary to cap total annual fund operating expenses of Class S shares at 1.05%. The expense cap expires May 1, 2022.) The total annual operating expense ratio may vary in future years. Returns and expenses for other classes of shares will vary. Current performance may be higher or lower than the performance quoted. For most recent month-end performance, click here or call 800.243.1575.

** Davis Selected Advisers, LP assumed the portfolio management of Selected Funds in May, 1993.

*** From the date that Davis Advisors first began managing the Fund (May 1, 1993) until May 1, 2011, Selected International Fund was named Selected Special Shares and invested primarily in domestic equity securities. In the future the Fund is expected to invest primarily in foreign equity securities and the past performance of the Fund is unlikely to be relevant to future performance.
Portfolio Characteristics
as of 9/30/21
Geographical Diversification
Asia
72.6

%

Europe
17.4

%

North & Central America
5.2

%

Africa
4.8

%
Top 10 Countries
China
Singapore
South Korea
Denmark
Hong Kong
Japan
Bermuda
South Africa
Norway
Switzerland
Top 10 Holdings
| | | | |
| --- | --- | --- | --- |
| DBS Group Holdings | Singapore | Largest bank in Singapore and among the largest in developed Asia | 7.9% |
| Meituan Dianping | China | A Chinese consumer-facing business specializing in quick food delivery and other services such as hotel and travel reservations | 7.4% |
| JD.com | China | One of the largest e-commerce businesses in mainland China offering a range of goods such as consumer electronics and appliances | 7.3% |
| Hollysys Automation Technologies | China | Leading industrial automation company in China | 6.7% |
| Danske Bank | Denmark | Largest bank in Denmark that is well-capitalized yet is trading below book value due to what we believe are temporary headwinds  | 6.4% |
| AIA Group | Hong Kong | 2nd largest life insurer in China with operations throughout Asia-Pacific offering financial services to a large, under-penetrated addressable market  | 5.9% |
| Samsung Electronics | South Korea | Among the world's largest semiconductor companies - a global market leader in wireless handsets, TVs, flat panel displays and memory components. | 5.6% |
| Tokyo Electron | Japan | One of the world's largest manufacturers of semiconductor production equipment. | 5.2% |
| DiDi Global | China | The largest mobile platform taxi-calling app in China | 5.0% |
| Bank of N.T. Butterfield & Son | Bermuda | Leader in Southeast Asia in peer-to-peer ridesharing, ride service hailing and food deliveries | 4.9% |
Top 5 Industries
| | |
| --- | --- |
| Retailing | 26.6% |
| Banks | 23.5% |
| Information Technology | 17.5% |
| Transportation | 8.5% |
| Insurance | 8.3% |
Portfolio Composition
International Fund
MSCI ACWI®
- ex USA
Number of Holdings
26
2,352
Median Market Cap ($bn)
33.9
9.4
Weighted Average Market Cap ($bn)
92.5
88.7
Forecast P/E Ratio
9.3
13.9
Literature
This material is authorized for use by existing shareholders. A current Selected International Fund prospectus must accompany or precede this material if it is distributed to prospective shareholders. You should carefully consider the Fund's investment objective, risks, fees, and expenses before investing. Read the prospectus carefully before you invest or send money.
1As of June 30, 2021.

** The Attractive Growth and Undervalued reference relates to underlying characteristics of the portfolio holdings. There is no guarantee that the Fund performance will be positive as equity markets are volatile and an investor may lose money. Past performance is not a guarantee of future returns. Performance may vary. Five-Year EPS Growth Rate is the average annualized earning per share growth for a company over the past five years. The values for the portfolio and index are the weighted average of the five-year EPS Growth Rates of the stocks in the portfolio or index. Forward Price/Earnings (Forward P/E) Ratio is a stock's current price divided by the company's forecasted earnings for the following 12 months. The values for the portfolio and index are the weighted average of the P/E ratios of the stocks in the portfolio or index.
(6) Read here for Index definition
(8) Read here for objective/risk disclosures
(10) Read here for Expense ratio/Turnover disclosures

(11) Read here for additional disclosures
Davis Distributors, LLC, 2949 East Elvira Road, Suite 101, Tucson, AZ 85756